Here at Tetrafab, we're pretty big tech geeks. Because of this passion for innovation, when the mob of startups and tech giants rolls into Sin City for the annual Consumer Electronics Show, we pay very close attention. Sifting through the wide array of drones, televisions, vehicles, computers, wearables, phones, robots, and other weird gizmos only to choose a handful of favorites is no easy task, but we did it because we love you. So here it is, our top 10 picks from CES 2016.
10.  Recon Empire EVS
Paintball is quite possibly one of the best ways anyone could spend a wintry day outside. I mean, what could be better than splattering your father and siblings with multiple high-velocity rounds of dye while they run through the woods? So when I heard there was a mask with a HUD (heads-up display, for the non-gamers out there) that allows you to track things like ammo count, field maps, teammate locations, etc., I was thoroughly intrigued. Sporting a sleek look and a range of color options, the Recon Empire is as aesthetically pleasing as it is functional. Inside the mask is a small peripheral screen that somehow manages to completely avoid impeding the user's field of vision, making it perfect for casual players or hardened professionals alike. The EVS dons a powerful 1GHZ dual-core processor and runs a custom version of Android OS. Still not sold? Well, this mask also has bluetooth capability, WiFi, and GPS. If that wasn't enough, it also has all the necessities for a great paintball mask, with a dual-pane lens that keeps your mask from fogging up while you ruthlessly hunt family members and friends. No price point has been announced yet, but early rumors pin the goggles at around $500.00. Happy hunting!
9. LG OLED Rollable Display
The television industry is currently booming thanks to a series of innovations and a rapidly growing consumer market. With 4k becoming standard on most new sets, manufacturers are looking for ways to create new ideas and break the mold of traditional models, or in LG's case, bend the mold. LG has been toying with bendable displays for a couple years now, but this year they finally showed the public a perfectly functioning 18 inch OLED rollable screen that is truly a sight to behold. The bendable display is paper-thin (only 1mm thick), lightweight, and sports a full resolution 4k screen. Even though these wonderful creations are not yet available to consumers, it's easy to imagine how this technology could change the way we use our televisions. Imagine being able to take your 70 inch 4k tv off the wall, roll it up under your arm, and bring it to your friend's house to watch the big game. Tired of sitting on the couch? No problem, move your tv to the bedroom and pin it to the ceiling. The applications for this sort of technology in a televisions set are limitless, not to mention the implications for other laptop, phone, and tablet displays. The only potential setback with these new sets is the OLED technology itself. It is very, very expensive to produce and production runs have an alarmingly high defect rate. Despite these challenges however, LG remains committed to bringing these bendable displays to the consumer market within the next 3 or 4 years. Just don't expect them to be cheap…
8. HTC Vive Pre
I will proudly admit that the new wave of VR currently being developed makes me giddy with excitement. The implications for how we play games, watch movies, and engage in computing are truly mind-boggling. VR has been a staple of CES for a few years now, starting with the original model of the Oculus Rift. Since then, in just a few short years the industry has made GIANT leaps forward. HTC has taken the wildly successful model set forth by Oculus, and added some really cool features that immerse users even deeper into the VR world. The major unique selling points of the Vive are the front camera and the handheld controllers. The front camera operates as a sort of panic switch, in that by double clicking the home button the outline of the room you're in will pop up into your field of vision and you can navigate the real environment. This is great for people who may freak out or get a little motion sick while fighting alien bugs on another planet. The controllers, although quite large, are able to read your position in real-time and create a 16 ft. cube of virtual area. This allows the user to make precision movements with their limbs that other VR sets can't yet detect. Painting, throwing, and shooting all become incredibly immersive with the new hand sensors, aptly named basestations. Although it is currently only available in developer kits, HTC plans to release the Vive Pre in the coming year or so. However, unlike Samsung's Gear headset which operates with a phone, the Vive requires a powerful PC in order to work. This means a higher startup price, but for that you get a much more immersive experience. No price point has been set, but if HTC plans to compete with the Oculus Rift I expect the cost to be very competitive at around $600.
7. LG 98 inch 8k LED TV
If you can't tell, I really love televisions. LG's beautiful 98 inch 8k LED set was mesmerizing CES attendees, causing people to literally stop in their tracks to catch a peek of this gorgeous display. With it's ultra bright screen, true blacks, and 120 FPS capabilities, this television provided a glimpse into what we can expect in the mainstream market in just a few short years. There is just one big problem….there is absolutely no native 8k content yet. No movies, no TV , nothing (other than a few promo videos like the one pictured). There is barely even any 4k content to view outside of some select youtube videos, and this is a major problem for television companies. It seems that technology is moving too fast for content producers to keep up with, which is aggravating to those with Ultra High Definition displays. So for now, all we can do is wait, and hope that by the time 32k technology is here we can enjoy an 8k broadcast of Monday Night Football.
6.  BMW i8 Spyder with Air Touch 3D
Concept cars are a dime a dozen nowadays, and while they always look amazing, very rarely do they merit much attention. BMW looked to change this trend for CES 2016, and took the showroom floor by storm by putting real-world tech into their i8 Spyder concept. They call it Air Touch 3D, and it gave us a glimpse into some of the features that will be available once autonomous vehicles start hitting the roads. Although BMW just introduced a similar gesture control feature in all of it's 2016 7 series models, the Air Touch 3D takes it to the next level. The dashboard instruments are all 3D and look absolutely stunning. Once you enter into self-driving mode, the steering wheel folds into the dash allowing you to view the 21 inch screen in all of its glory. The Air Touch gesture control screen works just like a touchscreen, without having to physically touch any surface. The responsiveness and accuracy of the movement sensors are revolutionary; just swipe, scroll, and click with simple finger and hand motions to do everything from change the channel, control volume, scroll through websites, etc. Of course, this system also touts a state-of-the-art voice control platform, which means you can control literally every function of the vehicle's operations without ever touching a thing. While self-driving mode is still not fully available to consumers, BMW states that this is not because the technology isn't ready, but has more to do with legislation moving slower than innovation. Although the idea of having such a powerful driving machine like the BMW i8 drive itself seems a little wasteful to me, the look and feel of the i8 spyder makes me very excited for the future of travel.
5. Razer Blade Stealth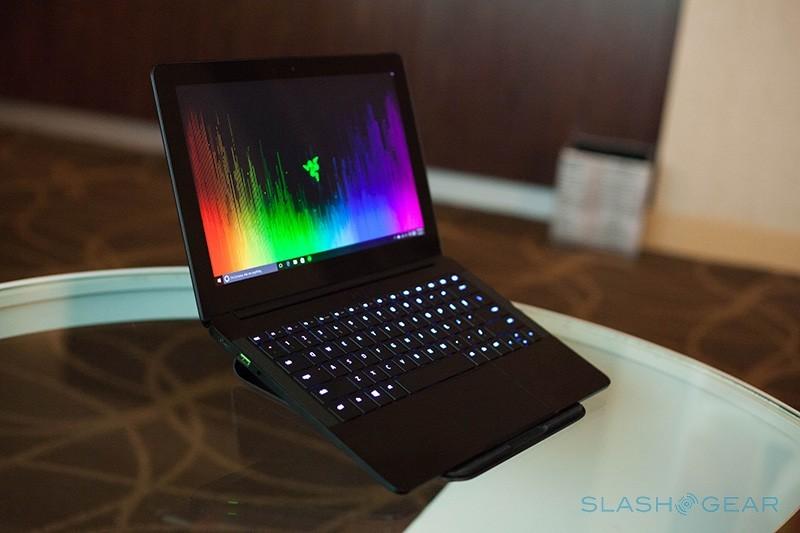 Laptops, tablets, and televisions are staples of CES each and every year. But with so many different products to choose from, it takes something very special to really stand out in the crowd. Razer's beautifully designed Blade Stealth is just that: part gaming laptop, part eye candy, Razer stole the show in the computing department this year. We'll start with the aesthetics. At a mere half of an inch thick and weighing only 2.75 pounds, one might think the Blade would be flimsy. Think again. A CNC-milled body made from aerospace grade aluminum gives the laptop a supremely solid look and feel, without the extra weight. If the 12.5 inch touchscreen 4k display isn't good enough for you, they also offer an upgraded model with QuadHD (2560×1440) resolution. Perhaps the coolest feature on the laptop is the individually lit RGB keys, with programmable color patterns that give the user an infinite amount of fully customizable looks. But this isn't just a pretty face, the Blade also packs some serious computing power with its Intel Core i7 CPU, 8gb of dual-channel memory, and your choice of a 128gb or 512 gb SSD. For serious gamers, they also have a Thunderbolt 3 port that allows the user to connect the laptop to the Razer Core, which gives your laptop the same power of a desktop GPU, sold separately of course. One might think that such an incredible laptop is going to cost an arm and a leg, but at a starting point of only $999, this laptop can be yours for less than a new MacBook or Yoga Pro. The Blade is all set and ready ship this February, but no date or price has been announced yet for the Razer Core.
4. Chevy Bolt EV Electric Car
No it's not super sexy, super fast, and it doesn't have some crazy interior that makes you coffee and gives foot massages, but Chevy's Bolt electric vehicle had something no other car company could provide at CES this year: Practicality. With a list price of a modest $30,000, the Chevy Bolt packs a ton of luxury features that the common person can actually get excited about owning this year. The van/crossover design is perfect for families, and with a 200 mile battery life it's perfect for suburban or city living. Another big wow factor was the battery charging kit capable of recharging 80% (160 miles) of it's battery in less than an hour, which is substantially less than the Tesla (about 30 miles per hour of charge). The 10.2 inch touch screen control panel is beautiful, and even tilts to 45 degrees for easier viewing. With a release date set for Q2 of 2016, the Bolt is poised to make quite a big splash. Bravo Chevy, bravo.
3. Yuneec Typhoon H Drone
Last year Yuneec showed the CES crowd their then-developing obstacle avoidance technology, with promises of a mainstream drone in 2016. Well, they delivered, and in a sea of competition the Typhoon hexacopter stood a head above the rest. The Typhoon H has all the bells and whistles one would expect in a high-end modern drone: A high resolution 4k 360 gimbal cam capable of shooting 12-megapixel stills, an Android enabled controller with a high res 7 inch display, an autopilot "orbit mode", retractable landing gear and carbon fiber rotor arms, and six propellers for added stabilization. But the real selling point of this particular model is the state-of-the-art anti-collision system powered by Intel's RealSense technology. Although the anti-collision package will cost slightly more than the standard package, it's a must have for drone aficionados looking to protect their new toy. It also means parents can rest a little easier knowing their kids can't wreck into trees and buildings, avoiding some potentially awkward dinner conversations. The Typhoon H starts out at $1,799, a price that is sure to shake up the consumer market and put DJI on high alert when it launches later this year.
2. Samsung Family Hub Refrigerator
I know what you're thinking: "A refrigerator…..really??" Normally I don't include household appliances on the list of things that get me excited, but this year Samsung debuted what is, in my opinion, the coolest refrigerator ever. Available in Samsung's iconic black and the stainless steel model pictured above, this 4-doored behemoth sports a massive 21.5 inch gorilla glass touchscreen and looks like something straight out of the Jetsons. The screen has motion sensors that brighten the touchpad when it senses your presence, and dims to save energy once you walk away. What makes this refrigerator so interesting is the connectivity to your smartphone and home devices via the Family Hub app. The pair of cameras in the doors snap photos every time you close them, which means you can check how much milk is left while you're at the grocery, look around to see how much garlic is left, or see how much ice cream your kids ate while you were at work. The screen is also capable of running a long list of popular apps, including the ability to stream whatever is playing on your Samsung Smart TV right on your fridge. Why you ever want to do that is beyond me, but it's still pretty neat. If you're looking for more of a practical approach, the Family Hub gives you the ability to have a shared family calendar, make purchases on Amazon , and even order groceries from the local Whole Foods to be delivered to your doorstep using the Instacart app. Also included are the staples like Spotify, Pandora, YouTube, and picture sharing apps that let you show your kids off to the grandparents during holiday gatherings. Another impressive feature is the ability to turn the right half of the freezer into an extra refrigeration section for those special occasions that call for a little extra space. If you're already sold, you won't have to wait long to make this a part of your dream kitchen, units start selling this Spring for a mere $5,000.
1. Ehang 184 Personal Drone
I was never a big proponent of flying cars, at least not in the sense most people think of them. However, Ehang now has an answer for all of my skepticism. The main issue I had with the concept of a flying vehicle was the braking system. By default, anything heavy with a forward propulsion system is going to have serious issues stopping quickly, which is problematic when we're talking about a plethora of flying vehicles in a small space. Ehang doesn't have this problem because it flies and functions just like normal drone, and actually weighs surprisingly little. What's even better is the Ehang is fully autonomous while in flight mode, with the only user commands being lift off, pause(hover), and land. This means you don't need to have a pilot license to fly around your city, and the GPS navigates the skies for you. The only drawback is the drone has a max distance of around 10 miles, or about 25 minutes of flight time. The FCC has yet to draft up any real regulations for vehicles like this, and with a top speed of 62 mph and the ability to fly up to 11,000 feet in the air, it will be interesting to see how the government plans to control this new mode of human transport. As of right now, the drone's creators have yet to set a specific release date, but they claim the drone will be available to consumers sometime in 2016 at around $250,000.